Few of the items I have for sale on my ebay account UK sizes 8- 18, most brand new. Bids start at 3 quid/ GBP, shipping worldwide.
Designer brands- Diesel, Levi, Oasis, Marina Kaneva, Anna Rose, Eastex, After Six, United Colors of Benetton, Ichi, VOGUE and Italian Designer Roberto Celli
Few of the items I have for sale on my ebay account UK sizes 8- 18, most brand new. Bids start at 3 quid/ GBP, shipping worldwide
ATTENTION BELFAST! FASHION SHOOT NECESSITIES
I AM LOOKING TO DO A FASHION SHOOT, BEING THE CREATIVE DIRECTOR AND NEED A FEW ITEMS…LIST BELOW..
WHAT I AM LOOKING FOR—-
Unwanted clothing, knitted scarves/jumpers, yarn and bits of ripped clothing, jeans, fabric for a photo shoot. 
Model of colour /a girl of African extraction to model
Derelict location- a hospital, ruins, etc- all ideas welcome
The idea is based on tribal, glam and modern decay. I am a hat designer but I will not be featuring my head piece designs in this shoot. This is to focus on ideas that I have had for a very long time and wish to put them into play.
If you're interested in helping out, PLEASE GET IN CONTACT via jesstexlackey@hotmail.com
Thanks x
Oh miserable sideways rain, it was not fun walking into town getting drenched the last few days. I think my immune system has finally put it's 2 fingers up and said screw you, you're going to have a sore throat, runny nose and a temperature. Thank jeebus for Lemsip and Herbal Teas tho..I am feeling slightly better.
I was asked to have my photo taken when I made it into the Belfast Retail Fashion Week Show in City Hall, even tho I protested that I was soaked from the rain. They insisted anyways so I hope I didn't look an absolute state..god how dreadful that would be to end up in the Belfast Telegraph looking like a drowned rat..eeeeeeeek!
It was great seeing local talent on show and a few fellow designers that I know got to have their new collections strutted down the catwalk so that was exciting to see. The vintage section was my favourite, I must say, I really do prefer 2nd hand/vintage over some of the new styles coming out of the high street shops.



I am loving rings with large stones or crystals and I have had no luck finding such gems on UK websites so I decided to give it a go myself sadly I could not find any fancy casings so I went for simple ring bases and armed with a tube of super glue went about sticking stones on to them and the results is the above not too shabby hey chickens
http://styleofafashionista.blogspot.com/2011/06/homemade.html
This is a piece that I designed and just added my label to. It's for sale if anyone is interested.
It's an upcylced piece with pearls, face netting, snake skin print and black ribbon bow. Very 1950's
SALE NOW ON! ITEMS REDUCED TO HALF PRICE…If everyone could please share my link for Etsy I would appreciate it greatly. I really need to clear out my artwork and and some of my headpieces. Thanks a million xx
Any questions, please inbox me on here or on my hotmail- jesstexlackey@hotmail.com
Photo by Creative Distortion, Textile by Noir Lisa, headpiece by me, Jessie L Millinery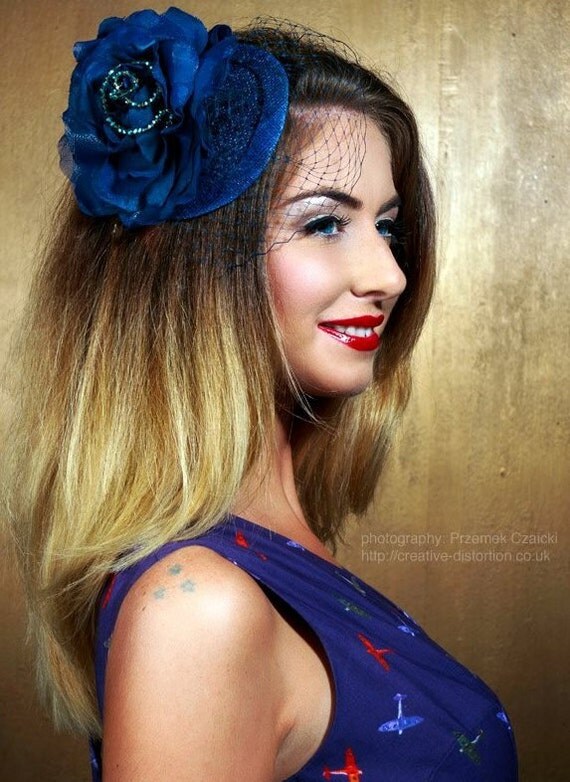 Blue Rose headpiece
A blue rose headpiece with crystals and face veil with a comb for securing in hair. Photography by Creative Distortion, Makeup by Nuala Campbell.Textile by Nor Lisa. The photos are from a collaboration photo shoot in Eivissa Night club , Belfast
This item is a couture piece, only one of its kind and hand made by myself. I do not do reproductions of any piece. The item is for sale on my Etsy page, link below. Please share xx
http://www.etsy.com/listing/91068402/blue-rose-headpiece
A gold mesh and black crushed velvet headpiece with black feathers and comb for securing in hair. Photography by Matthew McHugh, Makeup by MissReady2Wear. The photos are from a photoshoot that I was apart of in Filthy McNasty's, Belfast
This piece is for sale on Etsy under the below listing.
http://www.etsy.com/listing/91068129/gold-mesh-and-black-crushed-velvet
Couture Victorian styled headpiece that I made
This is a Victorian styled piece that I made when I first started making headpieces/hats. I wanted to do something unusual but within the lines of white and weddings and this is what I came up with. The price has been reduced and the item is for sale on Etsy on the below link. 
I appreciate all comments and reblogs on my work. Thanks a mill xx
http://www.etsy.com/listing/72709996/wedding-hat-with-lace-satin-fabric
My headpiece designs for sale on Etsy
I have reduced the price of my headpiece designs on Etsy. Please check out the link below and share. I also make orders tailored to customers requirements and can supply photos of previous orders.
Thank you xx
http://www.etsy.com/listing/72310927/bespoke-print-and-black-satin-ribbon-hat
I have renewed my listings on Etsy. Please visit the link below and check out my work.Thanks xx
http://www.etsy.com/listing/73182776/pink-flower-hat-with-black-and-pink
Oh McQueen how i love thee
ALEXANDER MCQUEEN 
A few of my pieces at the Platform II Fashion and Music show at MediaZoo Studios, Belfast
Photography by Michael Kerr
Headpiece designs by Jessie L Millinery- me
Textile designs by Sean Henry Fitzsimon and Lisa McCabe
Tailored coat by Ronan Peden
Makeup by Nichola Graham
Hair by Bill Harris Hairdressing
PLATFORM BELFAST II
My headpiece designs are at the end as we were the last to showcase, just see after the white dress at 3.33 x